* lots of activities for beginning multiplication

> I am going to introduce multiplication; any advice on how --
> a good, easy way?
> kali

Use oodles of manipulatives. Use them over and over and over again. It is impossible to do too much work with math manipulatives when you are introducing multiplication! Here are some inexpensive ideas (as well as ideas for manipulatives that cost $$). All of them reinforce the idea that multiplication is repeated addition.

1) Egg carton math. Have each child bring in an egg carton and a plastic container with some type of little objects. These could be pennies, beads, buttons, paper clips, raw macaroni, mini-pompoms... whatever. When you say and write a problem, such as 3 x 4, the children need to display this problem using different sections of the egg carton to hold each group.

By the way, I always told my students to think of the X in a multiplication problem as meaning "groups of." So 3 x 4 is "3 groups of 4."

Using the egg carton, then, they would only use 3 compartments, and they would put 4 items in each of those 3 compartments, counting as they go. And also after the problem is set up, they can count by those 4's: 4, 8, 12.

Then you could say, "4 x 3." Now they need 4 groups of 3, so they'll use 4 compartments and put 3 items in each, but they will still have 12. Count by those 3's: 3, 6, 9, 12.
2) Turn multiplication problems into rectangles. The cheapest way is just to use graph paper and color in squares. So again, with 3 x 4 (3 groups of 4), to show 3 groups of 4, students would color 3 rows with 4 squares in each row (4 + 4 + 4). To show 4 x 3 (4 groups of 3), students would color 4 rows with 3 squares in each row. They can then compare these two rectangles and see that in both cases, 12 squares are colored, but one looks like the other, turned 90 degrees.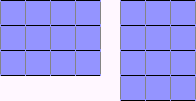 The more expensive but more effective way to make rectangles is with Cuisenaire rods. This way the colors also help to reinforce the problems. To show 3 x 4, you'd need 3 purple (4) rods. To show 4 x 3, you'd need 4 light green (3) rods.
I wanted so badly for my students to each have a set of "Cuisenaire rods" to use at home that we made our own 2D version. I just made photocopies of centimeter grid paper onto stiff card stock. Then the students colored portions of the grid paper with crayons, using the 10 colors needed to match the rods and then cut them out with scissors. So, for instance, red rods are the length of two units (the white rods). So if they needed 10 red rods, they would need to color 20 squares red, then cut them out in clumps of two. They would need 30 light-green squares to make 10 light- green "three" rods. And so on. If you don't actually have the rods, the colors are:
| | | | |
| --- | --- | --- | --- |
| 1: white | | 6: dark green | |
| 2: red | | 7: black | |
| 3: light green | | 8: brown | |
| 4: purple | | 9: blue | |
| 5: yellow | | 10: orange | |
Anyhow, the students colored and cut up all these strips and put them in an envelope with a clasp (actually, a ziploc bag would be better) for taking back and forth between home and school.
The next thing I did was to make a multiplication table for each child, also using centimeter graph paper. It had the numbers 1 - 10 running down the left side and running across the top, with a multiplication sign in the top left corner. Then there was a thicker line to separate out the answers. (Or you could write those numbers 1 - 10 in a different color from the answers. But it still helps to have a thicker line.) Either I or the students would fill in the answers, but it is essential that they are accurate. You can do this in stages. So while you are just working with the twos times table, just give them a grid where those facts are filled in. Gradually fill in more of the grid.
Now, let's pretend they are working on their 3's so we can use the same example as above. The grid is filled in with all of the 1's, 2's, and 3's running across as well as down: 3, 6, 9, 12, 15, 18...
If you ask them to show 3 x 4, they will think: Okay, 3 groups of 4, so I need 3 of my purples. They will lay these down on the multiplication grid, starting at the top left corner of the answer area. Then they will peek under the bottom right corner of their rectangle. They should find a 12 there. Now if you ask them, 4 x 3, they will think, Okay, 4 groups of 3, so I'll need 4 light-greens. They will lay these down in the same way and peek under the bottom right corner. Again they should find a 12.
I'm going to try to insert a few graphics here: first the grid (this one shows all the answers to 10x10):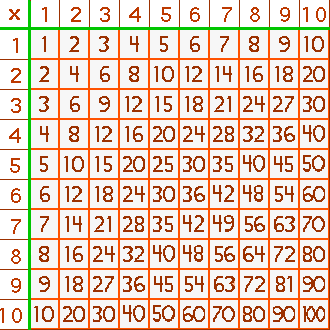 And now the two problems showing 3 x 4 and 4 x 3 (with the grid numbers covered by the rods shown):
| | |
| --- | --- |
| 3 x 4 = 12 (3 groups of 4 = 12) | 4 x 3 = 12 (4 groups of 3 = 12) |
Sorry this is getting way too long. Let me semi-briefly mention other ways to build the concept:

3) Lay Cuisenaire rods along a centimeter ruler, again to show multiplication as repeated addition. For 3 x 4, you would lay 3 purple rods end to end and see that they have reached 12 on the ruler.

4) Once the students become very good with the rods and multiplication grid, start turning the grid into a missing- number problem sheet. But scramble things up. Again use a partial grid while they are learning. But instead of writing the numbers in order across the top, write, for instance, 2, 5, 3, 1... and down the left side, 3, 1, 5, 2... and ask the students to fill in the answers. When they master that, sprinkle some answers around but take out some of the numbers from the outer edge, and the students need to figure out what number fits there. If they see a 15 on their grid, they will realize that the missing number at the top must be a 3 or a 5. If another number in that column is 6, then they know the number at the top must be a 3.

As I continued to create these missing-number grids for my students, they got better and better at their logical reasoning as well as their facts, and I began to remove more and more numbers. I got it down so that eventually I could put 10 well-placed numbers in the answer part of the grid, and they could complete the rest of the puzzle... 110 missing answers (90 more from the answers and the 20 missing numbers from the top and left edges)! It was a real challenge for them, logically, while reinforcing the facts. In fact, you could ask your students to create some of these puzzle sheets. Simply creating them is another exercise in logic.

Enough!! I just want to say that we used manipulatives throughout the year for multiplying. Drown them in manipulatives!! I also want to say that I have turned some of these activities into online activities at Math Cats (for instance, a multiplication grid activity... where each student originally had a magnetized set). I Wendy P of Math Cats, on teachers.net math board


top